Earthing Deep Sleep Pad Kit
Use Under Your Sheet!
Can Use Under Sheets
Versatile
Great for Pets Too
Introducing the all new Earthing Silver Plush Pad made using the highest quality conductive silver fabric. This versatile product can be used in a a chair to sit on or in bed to sleep on. It's also great for pets too!
PLEASE NOTE: Due to the popularity of the Silver Plush Pads we are experiencing world wide stock shortage and have no current stock available at present. Please stay connected with our newsletter and you will be the first to know when they are in stock. Alternatively email us and we can put you on our waiting list.
Our new 99% Silver Patented Conductive Pad is made using the highest quality conductive silver fabric. It is plush and quilted to give you comfort, and Earthing benefits with simplicity of use. Sleep deeply and comfortably, knowing your body is absorbing the benefits of the Earth's natural healing energy, along with silver's anti-microbial and anti-bacterial properties. Our new conductive silver fabric design can be used under a bedsheet or on top of for direct skin contact. Both methods will work, allowing electrons to flow through. If wearing pyjamas, electrons will still flow through to the body once a layer of perspiration has built up on the skin. The pad can also be used to sit on, take travelling and is great to use with indoor pets as well.
For one person sleeping it is best used lengthways on top of your mattress and under your favourite sheet where the majority of your body will lay, we suggest each person in the bed should have their own individual pad. Alternatively for two people you can place horizontally on your mattress under your existing sheet to share body contact. Approximate size 46cm x 90cm
The Benefits of the New Plush Silver Earthing Pads:
Can still use your favourite/luxury sheets

Less wear and tear due to less washing and maintenance

No damage to Silver threads from heavy sweaters and or the use of body oils and creams

No direct skin contact needed.
Note: After a short time of laying on the pad, the natural moisture from your skin will allow the conductive flow of electrons through fabric and this will still effectively pass on the Earthing benefits from the Earthing Sleep Pad to you.
If you are used to sleeping on an Earthing sheet for quick pain relief this method may take a little longer due to the need of a build up of a layer of moisture on the skin and it may be more beneficial to use in direct skin contact.
Just a Few of the Scientifically Proven Health Benefits of Earthing:
Improvement of many inflammation related disorders

Reduction or elimination of chronic pain

Better sleep and the ability to fall faster to sleep

Increased Energy

Lowered stress levels by normalising Cortisol

Improved blood circulation and flow

Accelerated recovery from intense athletic activity and body healing.
(DSSP)
Step 1: Check Your Outlets Are Earthed with our Socket Tester:
In order to use your Earthing products through an electrical outlet, you must connect it to the "earth port" of an earthed 3 prong outlet. Before plugging in your Earthing product, check that the outlet is earthed by plugging in the Socket Tester. Three orange lights illuminated is GOOD and means that you have a proper earth and you are ready to connect your Earthing product. Any other light combination means your outlet is NOT properly earthed. Try testing another outlet. If it still doesn't work, then you will need to use a grounding rod in the optional step 2 below.
Please Note: In Australia it is compulsory by law to have all electrical power outlets Earthed, however, if in doubt for any reason it is easy to check with our socket tester which are inclusive in all our Starter Packs, otherwise you can purchase individually – please click here to order.
Step 2: (Optional) Using The Ground Rod When Outlets Aren't Earthed:
a. First Push the Ground Rod directly into the earth around 20cm to 25cm, close to the foundation of the building and where vegetation is growing or the area is damp.
b. Run the cord from the Ground Rod, under or around a window or door, near where you will be using your product.
c. Make sure to cover the cord to prevent tripping.
d. Plug the prong end of your cord into the receptacle end of the Ground Rod cord. If you live in a dry area, such as a desert, soak the earth around the Ground Rod from time to time for maximum conductivity.
Step 3: Setting Up The Silver Pad:
a.The Earthing silver plush pad is quite portable and can be used in a variety of locations. Just remember that only one side of the plush pad is conductive and not the other. Only the Silver side of the pad is conductive. The pad can be used under a bedsheet or on top of for direct skin contact. Both methods will work.
b. Insert one end of the Earthing cord into the grey adapter plug supplied, then into a properly earthed wall outlet or if using a Ground Rod, connect to cord of an Earthing ground rod placed in the Earth outside.
c. Find the connecting black tab on the sheet and snap other end of Earthing cord onto the tab.
d. When you lie down on the connected sheet, any bare skin contact will transfer the Earth's energy to your body once you connect the sheet.
Please Note: Due to the nature of silver, our 99% pure silver products will discolour with use. It's normal to have fading or discolouration spots after use and washing. This is the inherent nature of silver. The product will still function exactly the same.
Step 4: How To Test For Conductivity With The Product Continuity Tester:
The purpose of the tester is to verify that your Earthing sheet is conductive
a. Firstly verify that the Product Tester itself is operational by pressing button that says "press" and release—the small light on front will flash green one time then goes off. Indicates tester is good. If no green light battery (Lithium CR2032) may be flat or unit faulty.
b. Snap Coil Cord included onto Product Tester's metal press stud, if not already assembled.
c. Insert your grey Earthing Adapter Plug into the power outlet you intend to use with your product.
d. Insert prong end of Product Tester Cord into one receptacle of the adapter plug or if using a Ground Rod, attach a splitter to end of ground rod cord and insert into one of the receptacles.
e. Plug Earthing cord from pad into the other receptacle. You should now have both the Earthing sheet and Tester connected to the plug that is in a power outlet. Repeat for Earthing Mat.
f. Place product tester flat on the pad.or mat. The round metal plate must be in contact with surface of the sheet. Press firmly on the sheet to obtain a good contact and press down on the "Press" button. A green light means that sheet is in working order. In unlikely case that no green light comes on, the sheet may be defective or has lost conductivity and should be replaced – you should also check your connecting cords to make sure they are conductive as well (see below).
Sometimes, people have difficulty testing their sheets. If the light doesn't come on, place one hand on the sheet while holding the tester in the other hand and with one finger on the silver button on back of tester. A green light would show that the body is grounded when touching the sheet. Make sure that both the tester and the sheet are plugged in to the earth, as described above. The reason for perhaps the light not going on: you aren't pressing hard enough on the tester. The surface fabric of the sheet sometimes prevents the button from contacting the conductive silver fibres of the sheet. The surface seems smooth, but if you were to look at it with a microscope you would see "hills and valleys." The pliant surface of the skin, unlike the hard metal button, will bend around fibres and make good contact. You can also put some moisture on your finger tips to create a better contact.
g. Disconnect product tester from the adapter plug or ground rod. However, it is fine to leave plugged in to test when needed later on
h. You don't have to test your sheet often. Perhaps after cleaning. The more you use the tester, the sooner the batteries in the tester will expire, replace battery (Lithium CR2032 by unscrewing the back panel.
Test Your Product Cords For Conductivity:
Replace the coil cord already on the product tester with the cord to be tested.

Touch the metal pin of the testing cord to the back of the metal disk on the tester

Hold down and press the "Press" button for at least 3 seconds.

A green light indicates that the cord is in good working order.
Step 5: How To Wash and Care For Your Earthing Sheet
It is good to wash your Earthing sheet. It will not be harmed by washing, in fact it is beneficial. Washing in warm water strips body sweat and natural skin oils from the silver keeping it conductive.
Do's
Wash a minimum of 2x per month or weekly*

Wash in a washing machine, with a mild detergent such as Earth Choice "standard"

Wash with warm water, approximately 40-60 degrees Celsius (105 Fahrenheit)

Dry in a dryer on low or line dry

Iron on low heat – only if needed
Dont's
Don't wash with bleach or fabric softeners

Don't use whitening detergents (including lemons), oxi-detergents OR detergents with oils like lavender, coconut oil or eucalyptus oil.

Don't use dryer sheet fabric softeners or wool washes

Don't apply lotions, medical creams or body oils before bed.
Bleach, body lotions and oils can tarnish the silver thread rendering it non-conductive. Fabric softener builds up on the silver and also ruins its conductive properties. Whiteners and bleaches will ruin the silver quickly and render them non-conductive.
It is advised to wait one hour to use the product after applying lotion to the skin and to make sure the lotions have been absorbed by the skin
Silver Side - 50% Silver Plated Nylon and 50% Polyester .... Reversed Side 100% Polyester.
Due to the nature of silver, our 99% pure silver products will discolor with use.
It's normal to have fading or discoloration spots after use and washing.
This is the inherent nature of silver. The product will still function exactly the same.
Kit Includes:
1 x Silver Pad approx. 46cm (18") x 90.cm (35.5")
1 x Straight Cord (4.5metres)
1 x Australian Adapter Plug
| | |
| --- | --- |
| SKU | DSSP |
| Brand | Earthing |
| Shipping Weight | 0.3000kg |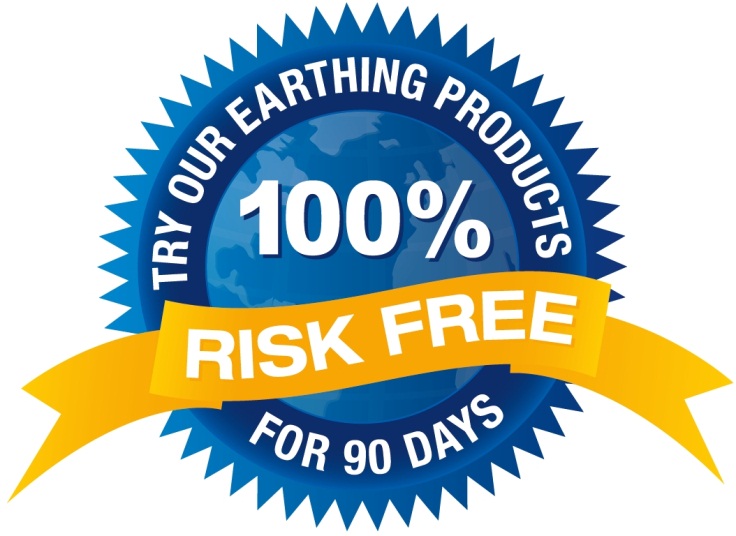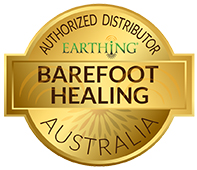 Falling asleep FAST, waking up REFRESHED

By:

Anna

on 5 February 2018

I was skeptical at first, but after coming across some amazing journal articles, I decided to give this a try. Within the first few nights I noticed that I was sleeping insanely better and waking up feeling so refreshed. I use to use melatonin 300mcg, but no longer even need this.




(5)
earthingdeep sleep pad kit

By:

Maria

on 7 January 2018

Fabulous service, friendly easy to talk to. The product sleep pad kit - wow. It's bloody fantastic . Sleep like a baby. I would strongly recommend this product. I have been telling friends and family even clients as I am massage and vibration therapist too. Its works!




(5)
Amazing Slept Better Immediately

By:

Lisa

on 8 August 2017

From the first night I used the Silver Pad I slept much better. I was really surprised as nothing else had worked before. I am still stirring a couple of times a night, however, get back to sleep almost immediately. Actually slept in today which never happens and will have to get back to setting an alarm clock. Definitely worth trying if you are having sleep issues.




(5)
Happy beyond my belief.

By:

gordon

on 14 July 2017

The deep sleep pad is my favourite product so far, 8 hours of deep relaxing sleep. Am noticing subtle changes over time, better circulation over winter, less to no arthritic pain, first winter in 40 years without niggling joint pains, lymphatic system also improving and am noticing better elimination processes. These are just some things I have noticed so far and am detecting new little things each week as my whole sysrem seems to be working much much better. If you could please send me some booklets as friends are seeing the healthy changes and are very interested. As someone who has studied natural therapies for many years I am agreeing that earthing is the greatest health discovery of the last 100 years.. thank you sincerely. Gordon




(5)
Reduced Swelling In My Ankles

This item was purchased as a gift for me by my sister. I confirm that my use of this product has been beneficial in providing a welcome reduction in the ongoing buildup of swelling in my now 83 years old my ankles probably caused by buildup of inflammation that was previously dispersed normally by my body during my earlier life. Kind regards, Greg




(5)
---
We Also Recommend
---
You May Also Like
---
Others Also Bought