Erthe Grounding Shoe Strap
New Technology To Quickly Ground Your Shoes
Ground Shoes
Easy To Attach
Stop Static Shocks
The Grounding Erthe Shoe Strap fits all shoes to remove electrical tension and connect you back to the healing energies of the Earth. Rubber soles block the flow of electrons from the earth but with the Erthe Strap, you can get reconnected every day!
---
We are very happy to be selected by earthing3 to help with the development of their grounding shoe strap - erthe.
The product is already used by elite athletes around the world and now they have enlisted Barefoot Healing to assist with feedback to help develop the product for everyday use. What that means is that we would love for you, our community, to try it and let us know what you think. Every upgrade they make includes your feedback so every bit of information they can get helps. Please note that the straps may be short wearing if using outdoors (around one month at present ), however, you only need to use one strap at a time to ground you.
Rubber soles on your joggers, school shoes, work shoes and everyday shoes block the flow of electricity dissipating from your body to the ground as well as prevent the movement of healing electrons from the earth to electrically balance your body which has been shown to reduce inflammation and speed the healing process.
Now with the introduction on the new Australian Made Erthe Strap, you can ground all your favourite shoes, whether you're running, walking, at school, playing team sports, enjoying our beautiful outdoors, and even teaming up with your work shoes to combine with our Universal Office Mat and be grounded while at work. Now it's easy to convert any of your shoes to grounding shoes, even those that have to wear orthotics in their shoes.
When attached to the soles of your shoes, you will naturally reconnect to the abundance of the earth's free energy that lies right beneath your feet and will help eliminate static electrical buildup - no more electrical shocks from metal. This happens when you walk directly on the ground - whether it is grass, soil, sand, gravel, stone, unsealed tiles and concrete footpaths and sidewalks.
The straps also contain certain materials that in a minuscule second will dissipate static electrical buildup even on non-conductive synthetic surfaces such as carpet, wooden floors, rubber floors as in a gymnasium, etc., due to the Tribo Effect.
Now you can be grounded with the protection, comfort and style of your favourite shoes.
Listen to the founder, George Ioannou, discuss his grounding journey and why he developed the Erthe Strap with The Mindstrong Project's Harvey Martin and NFL linebacker for the Houston Texans, Brian Peters:
Package contains 2 straps and full instructions on how to adhere to shoes.
Hints and Tips:
Only one strap needs to be adhered to one shoe to be grounded, therefore you can have one strap on two different sets of shoes or have a spare ready when the strap needs replacing.

If wearing Orthodics, do not stick the strap down firmly on the inside of the shoe. Move it on and off a few times so that the stickiness is reduced and it does not adhere. Therefore you can remove your orthotic inserts when needed and replace again. The pressure of your heel will keep the strap in place.

Wearing silver infused socks such as specialised Golf Socks or our Earthing Socks will allow you to ground quicker when using the Erthe Strap on your shoes.

Only clean the area on the shoe sole, with the provided cleaner wipe, as this helps bond the strap to the heel area. The strap will stick effectively elsewhere on the shoe and will make it easier to take off when replacing the strap.

Wait at least 48 hours before you start walking with the Erthe Strap adhered to your shoe for better longevity.

Be aware that the Erthe strap may wear down faster on rougher surfaces, heavy pounding, distances travelled and even your weight. The manufacturers suggest they should last about 3 months, however, we have found when using while walking they will only last around one month.

To replace, simply peel off the old strap and adhere the new one.
Articles and Studies
Effectiveness of Grounded Sleeping on Recovery After Intensive Eccentric Muscle Loading
Grounding Speeds Athletic Recovery and Healing
Earthing Speeds Sports/Training Recovery, Lessens Muscle Damage and Inflammation
(E-ES)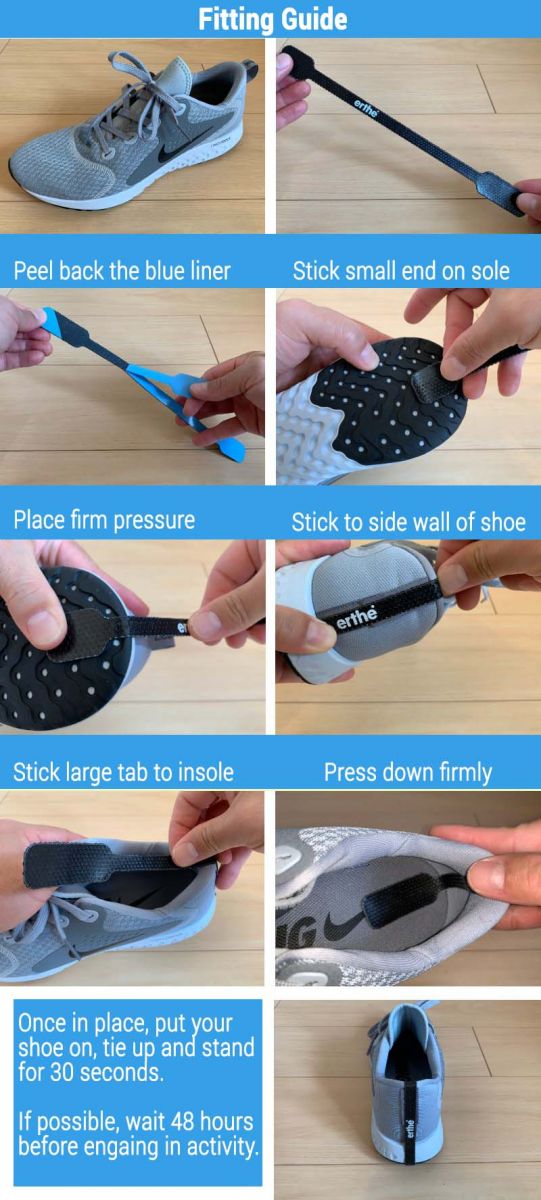 Contains 2 x Erthe Straps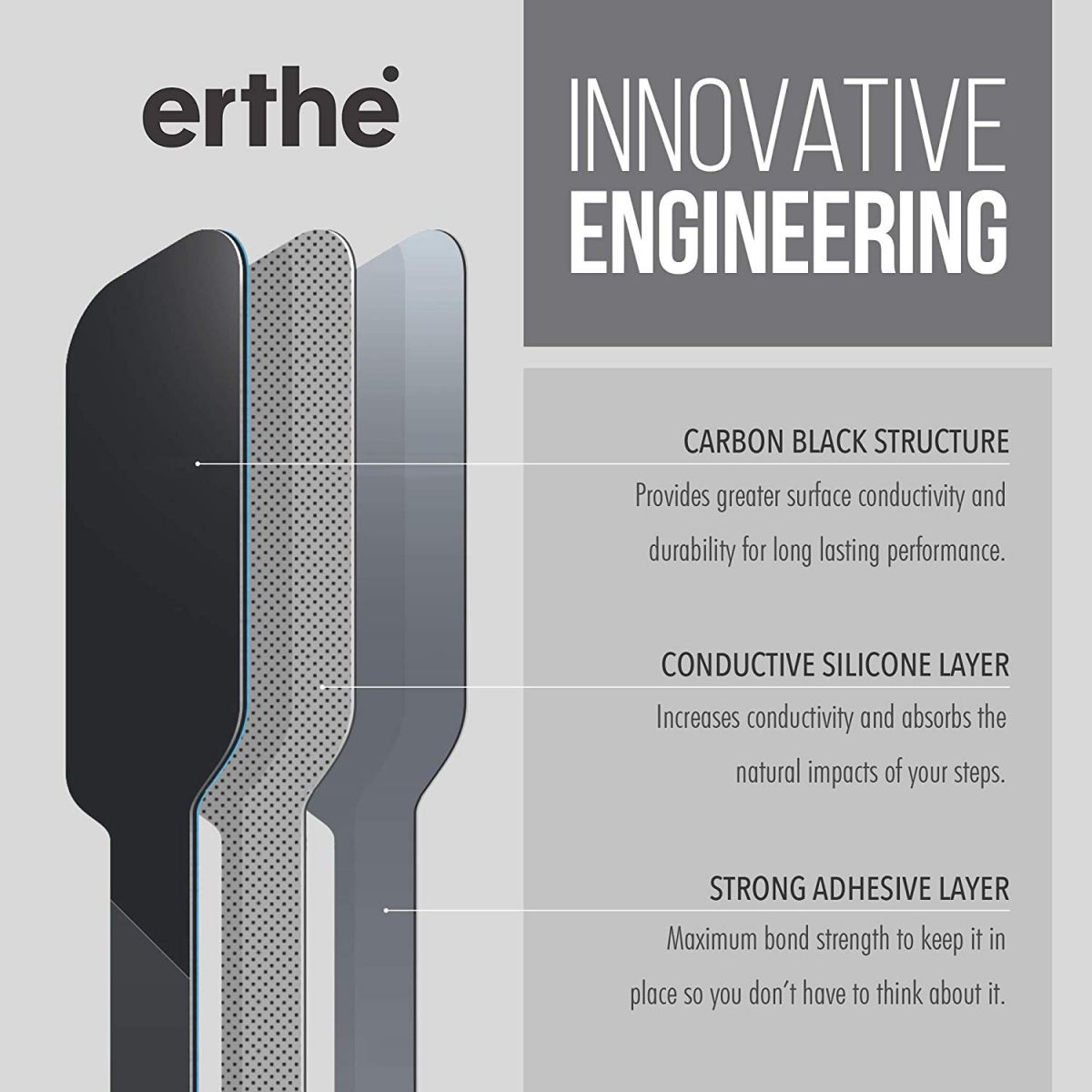 | | |
| --- | --- |
| SKU | E-ES |
| Brand | Erthe |
| Shipping Weight | 0.2000kg |
The manufacturer offers no warranty with this product, unless faulty on arrival. Due to constant wear on the straps, they do have a short life span depending on circumstances
I'm happy

By:

Robyn

on 12 August 2019

I am happy with my Erthe Strap together with earthing socks. The strap was easy to apply and my silver sneakers look good with the orange socks. This way I can benefit more from walking in winter - and wear my earthing thongs in summer. thanks to whoever invented them.




(5)
---
We Also Recommend
---
Others Also Bought
---
More From This Category