HomeFloww® EMF Protection
Postive Energy For People & Planet
$2,600.00
Sold Out - Backorder Available
Healthy Radiation
Protect from EMF
Feel Great Again
The HomeFloww® Health Technology transforms the radiation from mobile phone and towers, wi-fi, cordless phones and electrical appliances into a field with healthy, natural radiation. Live how nature intended in your home.
In today's world we are constantly bathed in a sea of man-made radiation and it is getting harder and harder to escape its path. Many people today are becoming EMF sensitive and are finding no help from the medical authorities so we have to look for ways to co-exist with this ever increasing radiation.The HomeFloww® System may be the solution you have been looking for. The homeFloww® set has been developed to support and maintain the natural energy of humans, animals and plants in homes charged with radiation.
Floww Health Technology does not fight the existing radiation but uses it instead. The radiation is, as it were, transformed, converted. A Floww product consists of a circuit of small electronic components which responds to radiation emitted from one or more sources of radiation, such as mobile phones and their towers, DECT cordless phone, wi-fi, smart metres or UMTS masts, etc.
Throughout your home, in all rooms, a Floww field is created through the balanced interaction of the different parts of the set and in doing so they help to promote and maintain a sense of ease and vitality in the body. Your home then becomes a place where you really do feel at home.
How it works
The Floww products resonate with the radiation and in doing so they create a subtle but distinct field that is 'fed' by the radiation source(s). This field, which we call a Floww Field, serves to offset possibly harmful radiation
Range
In principle the homeFloww® set has a range of 1,000 m3. The balanced interaction of the different parts of the set creates a Floww Field in every room in the house. The range may be reduced if surrounding radiation fields are extremely strong.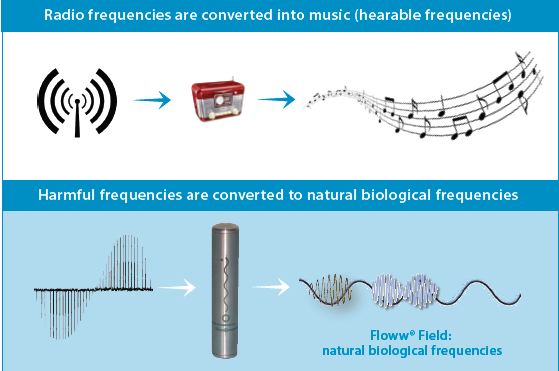 (fl-home)
| | |
| --- | --- |
| SKU | fl-home |
| Brand | Floww |
| Shipping Weight | 0.1800kg |
---
You May Also Like
---
Others Also Bought
---
More From This Category