Stellarcleenz Silver Cloth
Anti-microbial Silver Wonder Cloth with Handy Clip
Kill Germs Instantly
Free of Toxins
Use Wet or Dry
A safe, non-chemical, economical and environmentally friendly alternative to gels, sprays, wipes and disinfectants! Pure silver kills 99% of germs, fungi and viruses as well as bacteria that can cause odours. Comes with one handy clip.
Barefoot Healing is proud to be the Australian Distributor for Stellarcleenz™ - the natural, safe anti-microbial alternative to alcohol-based skin sanitizers, wipes and gels. Germs are everywhere - you won't believe where they reside. Stellarcleenz™is a natural, chemical-free, anti-microbial 99.99% pure silver cloth alternative to all alcohol-based body sanitizers, wipes and gels and is earth-friendly.
Pure silver kills 99% of germs, fungi and viruses as well as bacteria that can cause odours.
Stellarcleenz™ is better for your health, light and easy to carry, does not need to be continually replaced and leaves no mess to dispose of. The Stellarcleenz™ pure silver cloth has been scientifically proven to safely kill bacteria, fungi and viruses on human skin as well as on devices and surfaces. Can be used dry, damp or wet and will last over 10,000 wipes.
The large
Stellarcleenz™

is approximately 25cm x 25cm and comes with a handy carry pouch. Comes with one Handy Clip so that you can clip your Stellarcleenz to your clothes, bags and even handles - this makes keeping germs at bay easy and convenient during all hours.
The Benefits of using Stellarcleenz™
Naturally and safely kills harmful germs, fungi and viruses

99.99% pure silver plated to a parachute silk nylon

Chemical-free, non-alcohol based and safe for all, including babies and pets

More effective than gels, sprays and wipes

Won't dry or crack skin

Can be used wet or dry

Does not kill "beneficial" bacteria (often called "good bacteria") that lies beneath the oily layer of the skin (epidermal layer) which our bodies need (alcohol does)

Great for all parts of the body, surfaces and devices

Long-lasting, portable and discreet to use anywhere

Eco friendly, with less landfill

Incredibly economical (lab tested for over 10,000 wipes)
How Stellarcleenz™ are Made: Silver is a naturally occurring element and there are no added artificial chemicals. Stellarcleenz is made using an ionic technology (not nanotechnology/nanoparticles) in a bath process where 99.99% pure silver is plated to all fibres. It will not wash out. They have been laboratory tested to be effective for over 10,000 wipes without laundering and 500+ washes, with efficacy remaining at 100% and with no reduction in the silver's anti-microbial effects.
Made using an ionic technology in a bath process where 99.99% pure silver is plated to all fibres.
Rinse in warm water when needed. Can be hand or machine washed with care if soiled. Use mild/gentle soap with no bleach or softening agents. Air dry.
**Please note, personal health care items and wearables, including face masks, are not returnable.**
Benefits and Features
It's a well-known fact that over the past six thousand years, many civilizations have recognized the healing properties of silver, starting with the Macedonian culture. They even used it in wound care. The documented traditional medicinal uses of silver started to disappear as antibiotics were introduced and the pharmaceutical industries started to evolve and flourish. Silver is a time-tested solution to many of life's daily ailments. Pure silver kills 99% of germs, fungi and viruses as well as bacteria that can cause odours. What is unique and distinct about Stellarcleenz is even more timely today as bacteria and viruses are "smart" and becoming more pervasive. Many of the chemical and alcohol-based anti-microbial products on the market build up resistance after repeated use, as well as dry and crack skin exposing one's body to the vulnerable gateways into internal systems. Advantages and benefits of Stellarcleenz compared to other anti-microbial gels, sprays and disinfectant wipes on the market are manifold.
Most anti-microbial products contain a minimum of 60% alcohol/ethanol or they are not effective as bacteria, fungi or virus killers. (A big bottle can equal a 120 proof drink, which mum's also intensely disliked for their kids). Alcohol and chemicals can also destroy the good "beneficial" bacteria our bodies need that lies under the skin's oily layer. Stellarcleenz is made of 99% pure silver and is NOT Nano plated technology ("Nano", to many, sounds futuristic, but it is not a plus for people or the environment in this application). Stellarcleenz contains no alcohol, chemicals or toxins and not only are safe; they are portable and easy to stash compactly anywhere. They are natural and have lasting re-usability making them more economical than many a gel squirt or single-use disposable wipe. And they are especially discreet to use in social situations and on business occasions. What is a "stellar" differentiator is, in addition to hands and all other parts of the skin and body, Stellarcleenz are additionally highly effective on surfaces and electronic devices.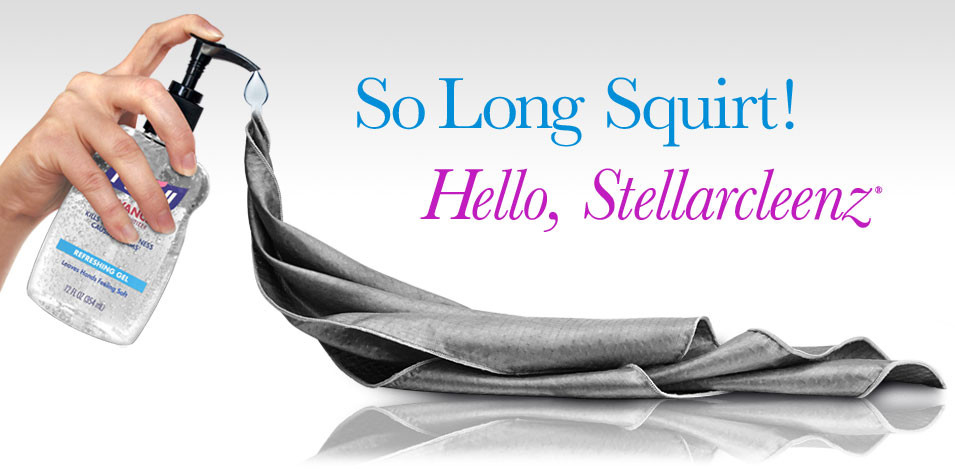 (tru-skz)
One 25cm x 25cm (10") square Stellarcleenz with pouch
| | |
| --- | --- |
| SKU | tru-skz |
| Brand | tru47 |
| Shipping Weight | 0.0300kg |
---
Others Also Bought
---
More From This Category