Stellarcleenz One Large
Anti-microbial Silver Wonder Cloth
$45.00
RRP $49.00
SAVE $4.00 (8%)
In Stock
Kill Germs Instantly
Free of Toxins
Use Wet or Dry
A safe, non-chemical, economical and environmentally friendly alternative to gels, sprays, wipes and disinfectants!
Barefoot Healing is proud to be the Australian Distributor for Stellarcleenz™ - the natural, safe anti-microbial alternative to alcohol-based skin sanitizers, wipes and gels. Germs are everywhere - you won't believe where they reside. Stellarcleenz™is a natural, chemical free, anti-microbial 99.99% pure silver cloth alternative to all alcohol-based body sanitizers, wipes and gels and is earth friendly.
Stellarcleenz™ is better for your health, light and easy to carry, does not need to be continually replaced and leaves no mess to dispose of. The Stellarcleenz™ pure silver cloth has been scientifically proven to safely kill 99% of bacteria, fungi and viruses on human skin as well as on devices and surfaces. Can be used dry, damp or wet andwill last over 10,000 wipes.
The large
Stellarcleenz™
is approximately 25cm x 25cm and comes with a handy carry pouch.
The Benefits of using Stellarcleenz™
Naturally and safely kill 99% of harmful germs, fungi and viruses

Chemical free, non-alcohol based and safe for all, including babies and pets

More effective than gels, sprays and wipes

Won't dry or crack skin

Can be used wet or dry

Does not kill "beneficial" bacteria (often called "good bacteria") that lies beneath the oily layer of the skin (epidermal layer) which our bodies need (alcohol does)

Great for all parts of the body, surfaces and devices

Long lasting, portable and discreet to use anywhere

Eco friendly,with less land fill

Incredibly economical (lab tested for over 10,000 wipes)
How Stellarcleenz™ are Made: Silver is a naturally occurring element and there are no added artificial chemicals. Stellarcleenz are made using an ionic technology (not nanotechnology/nano particles) in a bath process where 99.99% pure silver is plated to all fibers. It will not wash out. They have been laboratory tested to be effective for over 10,000 wipes without laundering and 500+ washes, with efficacy remaining at 100% and with no reduction in the silver's anti-microbial effects.
Made using an ionic technology in a bath process where 99.99% pure silver is plated to all fibers.
Hand or machine washing is optional. If desired use mild/gentle soap with no bleach or softening agents. Air dries quickly or can be put in the dryer with no softeners.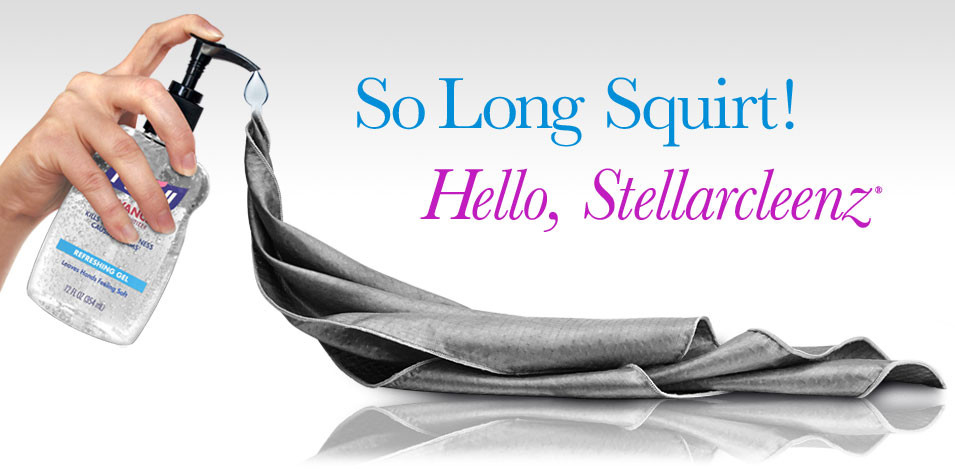 (skz1)
Chemical free

By:

Cate

on 15 August 2016

I kept it in my handbag . I used it to clean my iPad and wipe my steering wheel . I also used it to clean my hands and to clean the supermarket trolley handle . My husband was also very intrigued by the product information. I found the Stella cloth a refreshing new and responsible approach to keeping my skin free of viruses and detrimental bacteria and minimising the exposure to potential dryness or reactions to chemical antibacterial solutions . It's chemical free so less impact on the environment and our health as silver is a supportive material for wellbeing .




(5)
Supported by Science

By:

Amanda

on 15 August 2016

I kept it in my handbag while travelling overseas and used it before eating in particular, as I've been travelling in Thailand and Malaysia and didn't want to pick up any bugs. It is very convenient, no spills or mess - Or nasty chemical smells. It impressed my travel companions who were really curious about what I was using. It is an great way to maintain hygiene when out and about. The pack arrived just before a trip overseas and I happily packed the little silver cloth in my carry-on ready to use when I needed it - at airports and restaurants without the worry about germs etc. I love that it comes with a practical pouch that can fit into any purse or pocket. I love that it is easy to use and feel reassured that it's supported by science. It's a super and innovative product!




(5)
Handy

By:

Dayne

on 15 August 2016

I used it the most on my mobile phone, on my hands and on my steering wheel - Definitely more convenient, as it is more portable. I would definitely recommend it over antibacterial gels.




(5)
Definitely recommend

By:

lesley

on 15 August 2016

This is such a great product, handy and convenient and great for the environment, it is very easy to use and maintain would definitely recommend it for people who have high sensitivities to many of the products on the market and for those who wish to maintain the best environment for their health and well being.




(5)
Miracle Cloth

By:

PAULINE

on 15 August 2016

It is so easy to use and take absolutely everywhere with you. It is indeed a 'miracle' cloth.




(5)
---
We Also Recommend
---
Others Also Bought
---
More From This Category