Pain & Inflammation

Pain is one of those nasty things that can stop us in our tracks and make life very unpleasant as well as keep from enjoying our family, friends and even affect our livelihood - it's debilitating and no one wants it, however, many people are suffering today needlessly as Earthing, which is natural, easy to do and with no side effects, may dramatically help reduce pain and even wipe it out for good in some cases. How can it do that you may ask?
If you have chronic pain (persisting for a long time or constantly recurring) you have chronic inflammation. The immune system is constantly producing free radicals eating up the body. Earthing is basically grounding the free radicals, giving them an electron from an alternative source, rather than a healthy cell - so that shuts down the damage to the healthy tissue, which shuts down the immune response and then healing can occur. The bottom line is we are grounding free radicals and the body heals and repairs itself. For chronic inflammation it is best to sleep grounded with an Earthing Sheet and work or rest grounded with an Earthing Mat - the more you can do it the better!
| DISEASE | HEALTH EFFECTS |
| --- | --- |
| ALLERGIES | Inflammation messengers stimulate release of histamine, leading to allergic reactions. |
| ALZHEIMER'S DISEASE | Inflamed brain tissues develop plaque; chronic inflammation kills brain cells. |
| AMYOTROPHIC LATERAL SCLEROSIS (ALS)* | Damage to motor neurons cases the body to launch an overzealous inflammatory counterattack, killing the motor neurons. |
| ANEMIA | Inflammatory messengers attack red blood cell production. |
| ARTHRITIS | Chronic inflammation destroys joint cartilage and inhibits the release of lubrication and cushioning fluid in the joints. |
| ASTHMA | Inflammation leads to blocking of the bronchial passages. |
| AUTISM | Brain inflammation is present in most autistic children. |
| CANCER | Inflammation contributes to free radicals, tumor growth and inhibits the body's defense against abnormal cells |
| CARDOVASCULAR DISEASE | Inflammation causes thick, unhealthy blood and arterial disease, leading to blockage and plaque and increased risk of dangerous clots in the blood vessels that feed the heart and brain; inflammation also damages heart valves. |
| DIABETES, TYPE 1 & 2 | Type 1 diabetes, inflammation induces the immune system to destroy pancreatic beta cells; type 2 diabetes, fat cells cause the release of inflammatory messengers, leading to insulin resistance. |
| FIBROMYALGIA | Inflammatory compounds present in the body at an elevated level. |
| COMMON INTESTINAL DISORDERS | Crohn's disease, irritable bowel, diverticulitis, and other intestinal problems involve inflammation that causes pain, interference with digestion and assimilation of nutrients, and damage to the sensitive lining of the digestive tract. |
| KIDNEY FAILURE | Inflammation restricts circulation and damages kidney cells that filter blood. |
| LUPUS | Inflammatory compounds spark an autoimmune attack. |
| MULTIPLE SCLEROSIS | Inflammatory compounds attack the nervous system. |
| PAIN | Activation of pain receptors, transmission and modulation of pain signals, and hypersensitivity of nervous system are all one continuum of inflammation and the inflammatory response. |
| PANCREATITIS | Inflammation induces pancreatic cell injury. |
| PSORIASIS AND ECZEMA | Inflammation-based skin disorders. |
| SURGICAL PROBLEMS | Excess inflammation can prolong healing. |
| *ALS is often call Lou Gehrig's disease | ***Extract from the Earthing Book 2nd Edition |
Begin With Our Popular Starter Pack!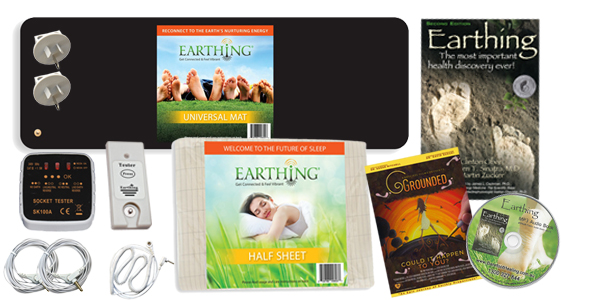 The popular starter pack features a money-saving combination of an Earthing Half Sheet made with cotton and conductive silver threads to use on your bed when you sleep, an Earthing Universal Mat for use elsewhere in your home or office during the day, testing equipment so that you know your products are working as well as the Earthing Book, Grounded DVD and Earthing Audio Book CD to fill you in on all the stories, research and evidence behind Earthing.
I have discovered the magic of Earthing after a long history of Fibromyalgia. In the past there were times that my body was in so much pain, no one could even touch me. Now when I go to see my specialists I arrive fresh and alert. At 76, I am now able to play and converse with great grand-children, instead of struggling and pretending. I teach scrapbooking, and can sit and work for two hours and control my pain. I am living.

Coleen F, NSW Grafton Fibromyalgia Group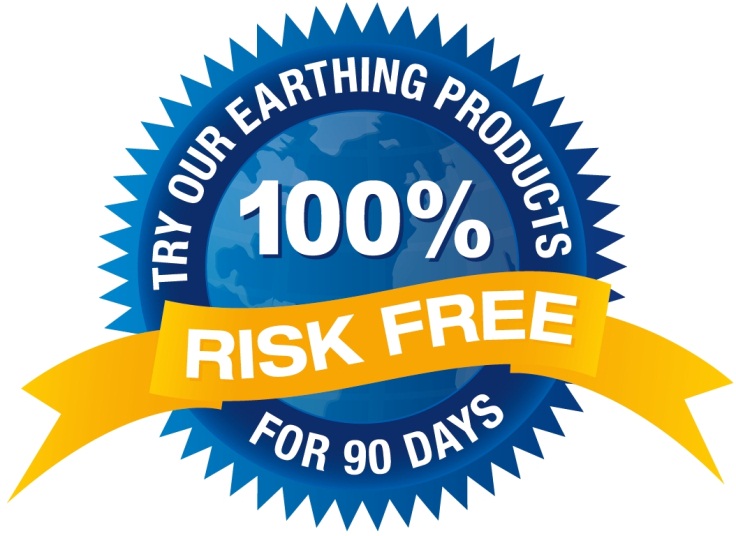 INDOOR PRODUCTS THAT MAY HELP
---