Earthing Holiday Giveaway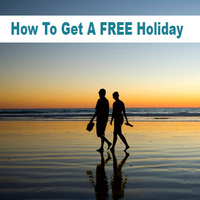 Could you do with a Barefoot Holiday Break – I bet you could as it's been such a tough year. Just place an order over $60 to be in our 4 Night/5 Day, 4 Star Australian Resort Holiday Draw. One drawn every week until 22 December 2020 and 2 years to use.
Could you do with a Barefoot Holiday Break – I bet you could as it's been such a tough year.
Well we have some exciting news – most businesses around this time discount products and you can save a few dollars here and there but we're going to do something different and that is we are giving away 4 holidays in Australia till 22 December – that's one drawn each week. Yes, that's right! You can go away for a 4 night, 4 Star accommodation holiday in popular places around Australia and have a beautiful break that you deserve. The value of this may exceed over $1200 depending upon the resort - that's way better than a boring discount.
And all you have to do is place an order over $60.00 in our shop from now till 22 December 20 and you'll automatically be placed in our draw. SHOP NOW
We are going to be drawing one out each week, starting this Monday, 30.11.20 and don't worry if you've already ordered in November, you'll be in the draw as well.
We are so excited as taking a short break is what we can all do with – kick our shoes off and walk along a sun-drenched beach while contemplating what new restaurant we'll eat in tonight and come back home with that extra bounce in our step….. With all our wonderful Earthing and wellness gifts to choose from – it's a no brainer to start shopping and be in this draw as someone will have to win each week and it could be you!
All the very best to everyone and we will publish the winners in our newsletter and Facebook page so make sure you're connected. You can read all the terms and conditions by clicking here.
Click Here To Go To Our Barefoot Shop
---
Leave a comment