Earthing Elite™ Sleep Mat Kit
The Latest Evolution In Sleeping Grounded
Place under sheet
Easy Care
No Washing Required
The Earthing Elite™ Sleep Mats are 100% conductive and designed to fit under any fitted bed sheet for full-body coverage or can be used horizontally at the bottom of the bed for two people. No need to wash just wipe down. Durable and easy to care for.
Reduce inflammation, enjoy a deeper sleep and wake up feeling refreshed with the NEW Earthing 'Elite™' Sleep Mat. Our new Earthing Elite™ Sleep Mats are made from brand new, proprietary grounding materials that are the result of two decades of research and development by Clint Ober and his Earthing team. They are 100% conductive, thin and comfortable, easy to clean and very durable.
The Sleep Mat is designed to be placed under any fitted sheet for sleeping for full-body coverage or to use at the bottom of the bed, horizontally, for two people and fits all beds up to a king-size. Sleeping grounded just got a whole lot easier!
The conductive side is the smooth, leather-like material and should be placed facing up directly under your fitted sheet. Use the straps to secure the mat directly to your mattress under your fitted sheet. As with all Earthing products your Elite™ Sleep Mat connects to the earth port of your home with a grounding cord and non-electrical earth adapter plug which is supplied in your kit. You can also use the optional Ground Rod.
BENEFITS OF OUR NEW EARTHING ELITE™ SLEEP MAT:
Can be used under your favourite fitted sheet or it is OK to lay on directly

Requires No Washing

Soft and breathable very thin fabric that doesn't hold the heat

Fits all beds from Single to King Size

Smooth surface area that is 100% earthed

To clean, simply wipe down periodically using warm water and soap

Sanitary - The hypoallergenic nature of carbon helps combat allergens in your bed and creates a physical shield against dust and mites living in your mattress

Long-lasting and durable. So far has been tested for 5+ years

Can be used with an electric blanket

Effortless and easy to care for
HOW DOES IT WORK WITHOUT DIRECT SKIN CONTACT?
The natural perspiration on your skin will build up, anywhere from instantly, 5 minutes, 20 minutes or even longer when you are lying in bed and depending upon individual circumstances. This moisture layer acts as a conductor and creates a channel for the electrons to flow from the Earthing Sleep Mat and through the fabric of the sheet to you. The thicker your sheets and layers of clothing, the longer it may take. You can test this with a Product Tester or a multimeter. When the green light comes on you know that the electrons are flowing through. The quickness of the electron flow can also be slowed down if you are dehydrated or have oils and cream on your skin. If you are a heavy sweater the electron flow should be much quicker as earthing loves moisture.
PROVEN MEDICAL HEALTH BENEFITS:
Better quality of sleep

Improved circulation and blood flow

Relief from pain and inflammation

Reduced Stress

Increase energy;

Relief from muscle tension

Boost to the immune system
Plus much more - read HERE
Kit includes:
1 x Elite™ Sleep Mat

1 x Adapter Plug

1 x Connection Cord

1 x Instruction brochure
(SMEK)
Step 1: Check Your Outlets Are Earthed with our Socket Tester
In order to use your Earthing product, you must connect it to the "earth port" of an earthed 3 prong outlet (PowerPoint). Before plugging in your Earthing product, check that the outlet is earthed by plugging in the Socket Tester. Three orange lights illuminated is GOOD and means that you have a proper earth and you are ready to connect your Earthing product. Any other light combination means your outlet is NOT properly earthed. Try testing another outlet. If it still doesn't work, then you will need to use a grounding rod in the optional step 2 below. Please Note: In Australia, it is compulsory by law to have all electrical power outlets Earthed, however, if in doubt for any reason it is easy to check with our socket tester which is inclusive in all our Starter Packs, otherwise you can purchase individually – please click here to order.
Step 2: (Optional) Using The Ground Rod When Outlets Aren't Earthed:
a. First Push the Ground Rod directly into the earth around 20cm to 25cm, close to the foundation of the building and where vegetation is growing or the area is damp.
b. Run the cord from the Ground Rod, under or around a window or door, near where you will be using your product.
c. Make sure to cover the cord to prevent tripping.
d. Plug the prong end of your cord into the receptacle end of the Ground Rod cord. If you live in a dry area, such as a desert, soak the earth around the Ground Rod from time to time for maximum conductivity.
You can order your ground rod here.
Step 3: Setting Up The Sleep mat
a. Place the mat on your mattress under a fitted sheet with smooth, leather-like material directly under the sheet – this is the conductive side. Use the straps to secure the mat directly to your mattress and to hold it in place.
b. Insert the pin end of the Earthing cord into the grey adapter plug supplied, then the plug into a properly earthed wall outlet. Power does not need to be switched on.
c. Connect the snap end of the Earthing cord to the press stud on the mat.
d. Test the Sleep Mat with the product tester to make sure the green light comes on and everything is connected.
e. Replace your standard fitted sheet.
f. When you lie down on the sheet/mat, it may take several minutes for Earthing to take place depending on your perspiration level, the thickness of clothes or sheet and your hydration levels.
Step 4: How To Test For Conductivity With The Product Continuity Tester:
The purpose of the tester is to verify that your Earthing mat is conductive. The Product Tester is an Optional Accessory - you can order here.
a. Firstly verify that the Product Tester itself is operational by pressing the button that says "press" and release—the small light on the front will flash green one time then goes off. Indicates tester is good. If no green light battery (Lithium CR2032) may be flat or unit faulty.
b. Snap Coil Cord included onto Product Tester's metal press stud, if not already assembled.
c. Insert your grey Earthing Adapter Plug into the power outlet you intend to use with your product.
d. Insert prong end of Product Tester Cord into one receptacle of the adapter plug
e. Plug Earthing cord from Sleep Mat into the other receptacle. You should now have both the Earthing Sleep Mat and Tester connected to the plug that is in a power outlet.
f. Place product tester flat on the mat. The round metal plate must be in contact with the surface of the mat. Press firmly on the mat to obtain a good contact and press down on the "Press" button. A green light means that the sheet is in working order. In the unlikely case that no green light comes on, the mat may be defective or has lost conductivity and should be replaced – you should also check your connecting cords to make sure they are conductive as well (see below).
Sometimes, people have difficulty testing their products. If the light doesn't come on, place one hand on the mat while holding the tester in the other hand and with one finger on the silver button on the back of tester. A green light would show that the body is grounded when touching the matt. Make sure that both the tester and the mat are plugged into the earth, as described above. The reason for perhaps the light not going on: you aren't pressing hard enough on the tester. You can also put some moisture on your fingertips to create better contact.
g. Disconnect product tester from the adapter plug. However, it is fine to leave plugged in to test when needed later on
h. You don't have to test your mat often. Perhaps after cleaning. The more you use the tester, the sooner the batteries in the tester will expire, replace the battery (Lithium CR2032) by unscrewing the back panel. Test Your Product Cords For Conductivity: Replace the coil cord already on the product tester with the cord to be tested. Touch the metal pin of the testing cord to the back of the metal disk on the tester Hold down and press the "Press" button for at least 3 seconds. A green light indicates that the cord is in good working order.
Step 6: How Care For Your Earthing Sleep Mat
To clean the mat, simply wipe down using a damp cloth or sponge periodically. A mild soap may be used, however, do not use any household products like furniture polish or ArmorAll as it will cause the mat to lose conductivity. Do not soak in water or wash in a washing machine.
Do not apply lotions, creams, or oils to the skin before bedtime on parts of your body that will be in direct contact with the Earthing mat. Such substances oxidize and can damage conductivity. Air-dry the mat only.
Your mat should be kept flat with no creases so please check regularly as continual pressure on creases will cause the mat to wear and possibly tear in that area.
Here's the question we're being asking the most lately:
What's the difference between the Earthing Elite™ Sleep Mat and the Earthing Elite™ Mattress Cover? And how do I know which one is best for me?
We're going to explain the differences and similarities between the two so you know exactly which one to choose!
(FYI: Regardless of which one you choose, sleeping on Earthing® products is hands down the easiest way to get in a large number of hours grounded each day!)
SIMILARITIES BETWEEN THE SLEEP MAT AND THE MATTRESS COVER:
1) Material: Both products are made with our proprietary Earthing Elite™ material. This grounded material is the culmination of two decades of research and development.
2) Smooth Surface Area: There are no perforations in the surface area of either product, so everywhere your body touches, you are 100% grounded.
3) Easy Cleaning: The smooth surface of each product makes it very easy to wipe down with a damp washcloth. (No machine washing required!)
4) More Sanitary: The hypoallergenic nature of carbon helps combat allergens in your bed. These covers not only ground you but create a physical shield against the dust and mites living in your mattress.
5) More Durable: So far, we've tested these products for 5+ years and they are as conductive and blemish-free as the day we started.
6) One Year Warranty: Our new conductive material is designed for a lifetime of conductivity, and like all of our products, comes with a one-year warranty.
7) Over or Under the Fitted Sheet: Both can be placed either way but:
a. Direct skin contact is ALWAYS best.
b. We recommend no more than one layer between you and the Earthing® product if:
i) You like to wear pyjamas: Place the Mattress Cover on top of your fitted sheet.
ii) You don't like to wear pyjamas or very light clothing, but don't want to lay directly on the Earthing® product:
Place the products under your fitted sheet.
c. Sheets: We recommend natural fabrics like cotton and bamboo whenever possible. Synthetic materials will ground you, they just take longer for your body's natural perspiration to saturate through the material and allow the electrons to flow.
DIFFERENCES BETWEEN THE SLEEP MAT AND THE MATTRESS COVER:
1 - SIZE
Sleep Mat = ONE size available: 27" x 84"/ 67cm x 213cm
Mattress Cover = SEVEN sizes available - one for each size mattress: Cal King, King, Split King, Queen, Full, King Single, Single.
2 - MATTRESS COVERAGE
Covers a Single or King Single mattress.

Can be placed vertically (head to toe) on ANY size mattress: This allows just one person to be grounded on a larger mattress if the second person doesn't wish to be grounded.

Can be placed horizontally on ANY size mattress: This allows two people to be in contact with the mat by running it vertically across the mattress. (This is a great option for couples on a budget, although neither partner will be maximizing their connection.)

Excellent for taking with you while you travel if you're uncertain what size mattress you'll be sleeping on.

Makes for a great gift if you are unsure of the recipient's bed size.
100% covers the mattress you buy it for, edge to edge, so that everywhere you move or touch, you are grounded. This is the optimal way to sleep grounded!
3 - STRAPS
The straps go fully underneath your mattress and run the length or width of the mattress, which allows this mat to be used on any size mattress.
The straps tuck around just the corners of the mattress, which is easier and faster to put on than the Sleep Mat straps, but only works on the specific size mattress that you buy the cover for.
Here's a handy chart to see everything we just discussed!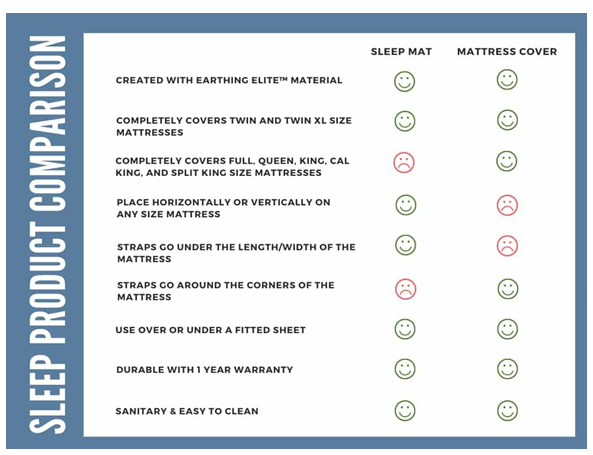 The Earthing Sleep Mat should be used under any fitted sheet for sleeping. It measures 67cm x 213 cm
1 x Elite Sleep Mat

1 x Adapter Plug

1 x Connection Cord

Full Instructions
Our non-toxic Earthing® mats are made from our patented conductive carbon leatherette. The leatherette is a composite of Polyurethane (PU) resin infused with a conductive carbon pigment. It has a buttery soft feel akin to vegan leather. It has been 3rd party tested to be free of lead, Azo dyes, and phthalates.
Polyurethane (PU): This material is what makes the Earthing® sleeping mats so durable while being environmentally friendly, breathable, soft, and flexible. This leather look-alike is consumer-friendly and safe, unlike older PVC leathers which were full of plasticizers and heavy metal elements like lead. It is vinyl-free and phthalate-free.
Conductive Carbon Pigment: Carbon is the 2nd most abundant element in the human body (after oxygen) and is what conducts the earth's energy. It also makes the mat naturally flame-resistant without needing to add harsh chemicals.
FABRIC BACKING: The sleep mat has a soft fabric backing made from a cotton/polyester blend that is latex-free.
MAT STRAPS: The mat straps do include a latex yarn to ensure a secure fit to your mattress.
OFF-GASSING: Prior to packaging, the mats undergo a thorough off-gassing procedure to ensure a peaceful, grounded rest right out of the box.
CLEANING: The sleep mat may be wiped down using soap and water on a damp cloth or sponge. Don't ever spray with household products like furniture polish or Armor All® which will make the mat lose its conductivity. Air-dry the mat. Never put it in the dryer.
| | |
| --- | --- |
| SKU | SMEK |
| Brand | Earthing |
| Shipping Weight | 0.5500kg |
12 month manufacturing warranty - this does not include wear and tear.
---
We Also Recommend
---
You May Also Like
---
Others Also Bought
---
More From This Category