Anti-Radiation Products To Complement Earthing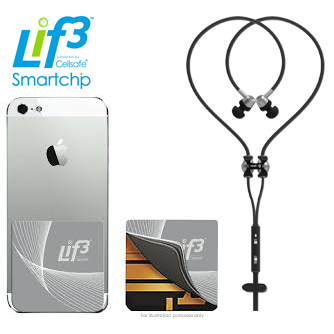 Proven new anti-radiation mobile phone protection products that work!
Over the years we have had many requests to add mobile phone chips and anti-radiation products to our Earthing shop so they can shop in one place, however, I have never really been confident distributing products that haven't had good certified testing and above all are easy to integrate into our everyday lives, consistently, such as Earthing. Well I'm pleased to inform you that we now carry a range of proven Mobile Phone Protection Smartchips and Anti-Radiation shielding for those of you that want to add this extra protection to safeguard yourself and your loved ones from radiation exposure and I hope you find something that suits your lifestyle. As all reports suggest it is always best to minimise your mobile phone radiation exposure by using hands free or texting, however, this is not always convenient or practical and in our quest to offer you a holistic approach to health and wellbeing these new products make a nice addition to your Earthing routine. See below for our range.
5. Vest Laptop Radiation Shield

is a highly comfortable laptop pad minimizing exposure to radiation emitted from the laptop battery, Wi-Fi antenna, and cellular antenna in some models, in addition to minimizing heat reduction. Vest Laptop Radiation Shield is made of non-grain oriented silicon steel and high conductivity aluminium sheet, minimizing radiation exposure. An additional closed-cell polyethylene foam layer provides maximum comfort and heat reduction, reducing radiation exposure by up to 92%. FCC Certified Laboratories tested and proven.




*Click here for FCC Certified Laboratories Tests
---
6. Vest Anti-Radiation Belly Band

creates a safe environment for the embryo to develop during pregnancy. By minimizing their exposure to everyday radiation, Vest Anti-Radiation Belly Band protects the embryo from all potentially harmful effects of exposure to electromagnetic radiation at this vulnerable stage of life. The inner layer of the product is 97% silver fibre, 3% nylon, successfully blocking radiation exposure by up to 100%. The outer layer is 97% bamboo, 3% spandex. Comfortable and silky soft to wear as well as complementing the figure and washable. Available in black and white. FCC Certified Laboratories tested and proven.



*Click here for FCC Certified Laboratories Tests
---
Leave a comment