Earthing Elite Pet Bed Covers
Connect your pets back to the Earth while indoors
Use For Pets
3 Sizes Available
Replacement Only
Connect your pets back to the Earth while they're spending time indoors. Earthing will provide a better quality of life for your beloved pets and may improve their energy, lessen stiffness, reduce pain and prolong their life. No connections included.
---
Buying Options
Quantity
Image
Name
Price
Earthing Elite Pet Bed/Cushion - Small ONLY

Ideal for dogs 1-14 kilos (71x52x4cm)

$162.50

In stock

Earthing Elite Pet Bed/Cushion - Medium ONLY

Ideal for dogs 14-31 kilos (91x61 x10cm)

$179.50

In stock

Earthing Elite Pet Bed/Cushion - Large ONLY

Ideal for dogs 32 kilos+ (112x71x15cm)

$246.00

In stock
Please Note: This selection does not include the connections and is for a replacement only or for customers with existing Earthing cords and plugs.
Grounded Pet Bed Covers - Earthing Provides A Better Quality Of Life For Your Indoor Pets
An innovative Grounding Pet Bed that grounds your family's furry members while they're indoors. The Earthing® Pet Beds are perfect for your dog, cat, or other indoor pet. Animals enjoy earthing and may experience a variety of benefits, such as reduced pain, improved blood circulation, reduction in inflammation and protection from low-frequency electromagnetic fields.
The Earthing Pet Bed™ cover is a removable, anti-microbial, fluid-resistant, stain-resistant grounded cover that is safe and effective at grounding your pets. The cover is made from Earthing's proprietary Earthing Elite™ material which is the result of 20 years of research and development. It's 100% conductive and very durable. The cover is designed to fill with your own pet bedding or foam so you can make it exactly how they like it. A liner for this is supplied.
The grounded cover has a smooth side for your pet to relax on and a non-skid, self-ventilating mesh bottom. The entire cover is designed to withstand the normal wear and tear of indoor pets.
Designed to be used indoors with a connecting cord and Earthing plug, however, can be used outside with an optional ground rod.
You can read the Pet Chapter from the Earthing Book by Clicking Here.
Dimensions:
Small - approx. 71.1cm x 50.8cm x 10.2cm/ pets 1-14 kg)

Medium - approx. 91.4cm x 61cm x 10.2cm/ pets 14-31 kg

Large - approx. 111.8cm x 71.1cm x 15.2cm/ pets 32+ kg
CLEANING
The grounded pet bed is easy to clean with a damp cloth with soap and water. You may also use any other pet-friendly cleaning product that does not contain bleach, whiteners, oxidizers, or essential oils. The cover can be removed if a deeper clean is required, but hand wash it only. Do not wash the grounded cover or liner in your washing machine.
INCLUDED:
1 x Pet Bed Cover of your choice

1 x Pet Bed liner

1 x Instructions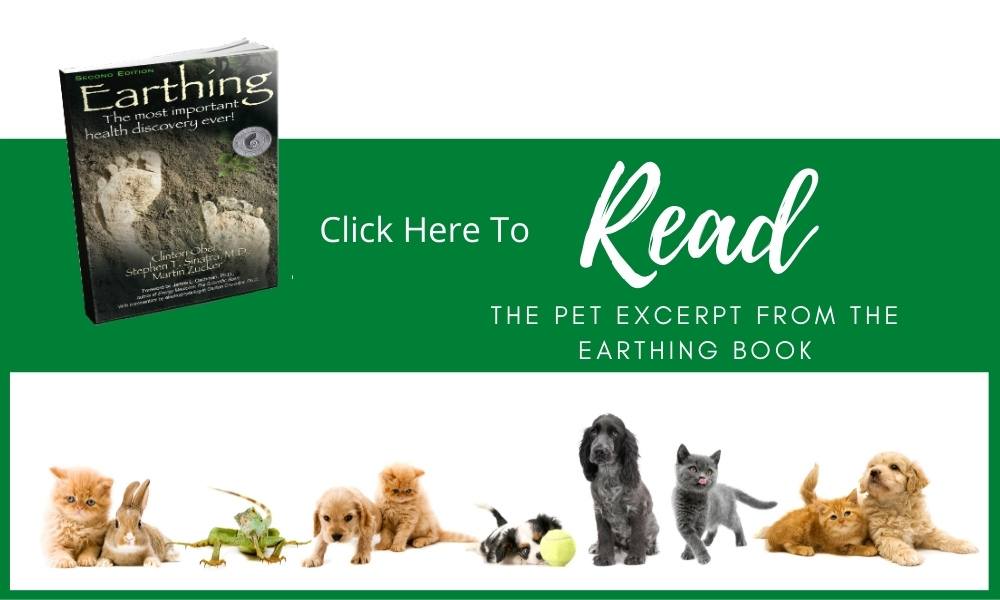 PATENT INFORMATION:

U.S. Patent No. 7,724,491 B2 - Method Of Treating Inflammation and Autoimmune Diseases
U.S. Patent No. 6,683,779 B2 - Personal Body Grounding System
U.S. Patent No. 7,212,392 B2 - Personal Body Grounding System Instrumentation and Process
(PetBEDONLY)
Insert your own pet cushion, pad, or foam filling into the bed lining and adjust to your pet's preference.

Attach the snap end of the Earthing cord to the press stud on the inside of the cover and do the zipper up.

Insert the pin end of the Earthing cord into the adapter plug supplied.

Insert the Australian adapter plug into an earthed PowerPoint outlet or powerboard. Please note that it does not matter whether the PowerPoint is on or off as our plugs are non-electrical and connect back to the earth wire only. No electricity is used. Alternatively, you can use a grounding rod.

Your pet bed is now connected. When your pet lays down on the Earthing Bed it will be getting the restorative benefits of Earthing/Grounding such as improved energy, reduced inflammation, less pain, improved blood circulation and protection for low EMFs.



Dimensions:
Small - 28" x 20" x 4" (Ideal for pets 1-31 lbs)
(approx. 71.1cm x 50.8cm x 10.2cm/ pets 1-14 kg)
Medium - 36" x 24" x 4" (Ideal for pets 31-70 lbs)
(approx. 91.4cm x 61cm x 10.2cm/ pets 14-31 kg)
Large - 44" x 28" x 6" (Ideal for pets 71+ lbs)
(approx. 111.8cm x 71.1cm x 15.2cm/ pets 32+ kg)
| | |
| --- | --- |
| SKU | PetBEDONLY |
| Brand | Earthing |
| Shipping Weight | 0.5000kg |
1 Year Manufacturer's Warranty
---
More From This Category