Guarantee


We stand behind Earthing™ products 100% and guarantee that they connect you to the Earth if used correctly. Our Earthing™ products, offered on this site, are the original and genuine products developed by Clint Ober and endorsed by the Earthing Institute, USA.
Barefoot Healing is a recognised specialised Australian Distributor for Earthing Products in Australia.

Our guarantee means you can
experience the benefits
of Earthing
absolutely risk-free for 90 Days!,
excludes footwear & accessories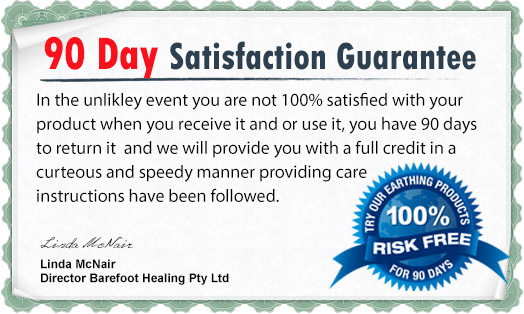 We offer a 90 day money back guarantee, excluding postage providing our care instructions have been followed and our products are still conductive and not damaged in any way. All products need to be sent back in orignial packaging and with all accessories. This Guarantee only applies to personal usage and does not apply to bulk or wholesale orders.

Earthing products should never be used as a substitute for medical treatment. They serve solely to connect your body with the Earth's energy. If you take medication, consult with your doctor before you begin Earthing. Please see Medical Advisory link below.

All items must be returned with a RMA number (please click here to go to returns).

MEDICATION ADVISORY
Research indicates that Earthing the body affects physiological functioning in a variety of ways. Because of this, we strongly recommend that any individual taking medication to thin the blood, regulate blood sugar, control blood pressure, or to supplement thyroid activity should consult with their doctor before using Earthing products, and then monitor the medication. An adjustment in medication may be necessary.