ProOne Replacement Filters
See details below for filter selection
Propur filters need replacing every 6 to 12 months, depending upon the system, for a continuous flow of purified, clean water. In some systems, extra filters can be added for a faster flow rate. Please see our chart at bottom of page.
---
Buying Options
Quantity
Image
Name
Price
ProOne G2.0 4" Mini Jug Filter

Filter for Water Jug

$114.95

In stock

ProOne G2.0 5" Slimline Filter

For Scout Water Canister or smaller units

$115.95

Sold Out

ProOne G2.0 5" Filter

For Older Traveler and Nomad Systems

$129.95

In stock

ProOne G2.0 7"

For Traveler+, and older Nomad and Big Systems

$135.99

In stock

ProOne 9" G2.0 Filter

For Big+, and older King Systems

$139.99

In stock

ProMax Shower Filter Cartridge Replacement

Replacement filter for Shower Units

$115.95

In stock

CounterTop and UnderBench Replacement Filter

9" Filter for Pressurized Countertop and Undersink

$155.95

In stock

Inline Connect FS10 Replacement Filter

Promax Heavy Duty Inline Connect FS10 Filter

$295.95

In stock
Please note that all units come with adequate Water Filters to start drinking purified water, however, if you wish to add more or replace please see our range below. The benefit of adding more filters is a faster water flow rate and filters lasting longer. *Replacement and usage vary from individual circumstances and this is a guide only. If your filter is coming up to the replacement time and is dripping through very slowly or the taste has changed, this would indicate it's time to replace the filter. ProOne filters are compatible with most other units on the market and the thread size on the filters is approx. 11mm
Propur® Filters (discontinued canisters) Chart:-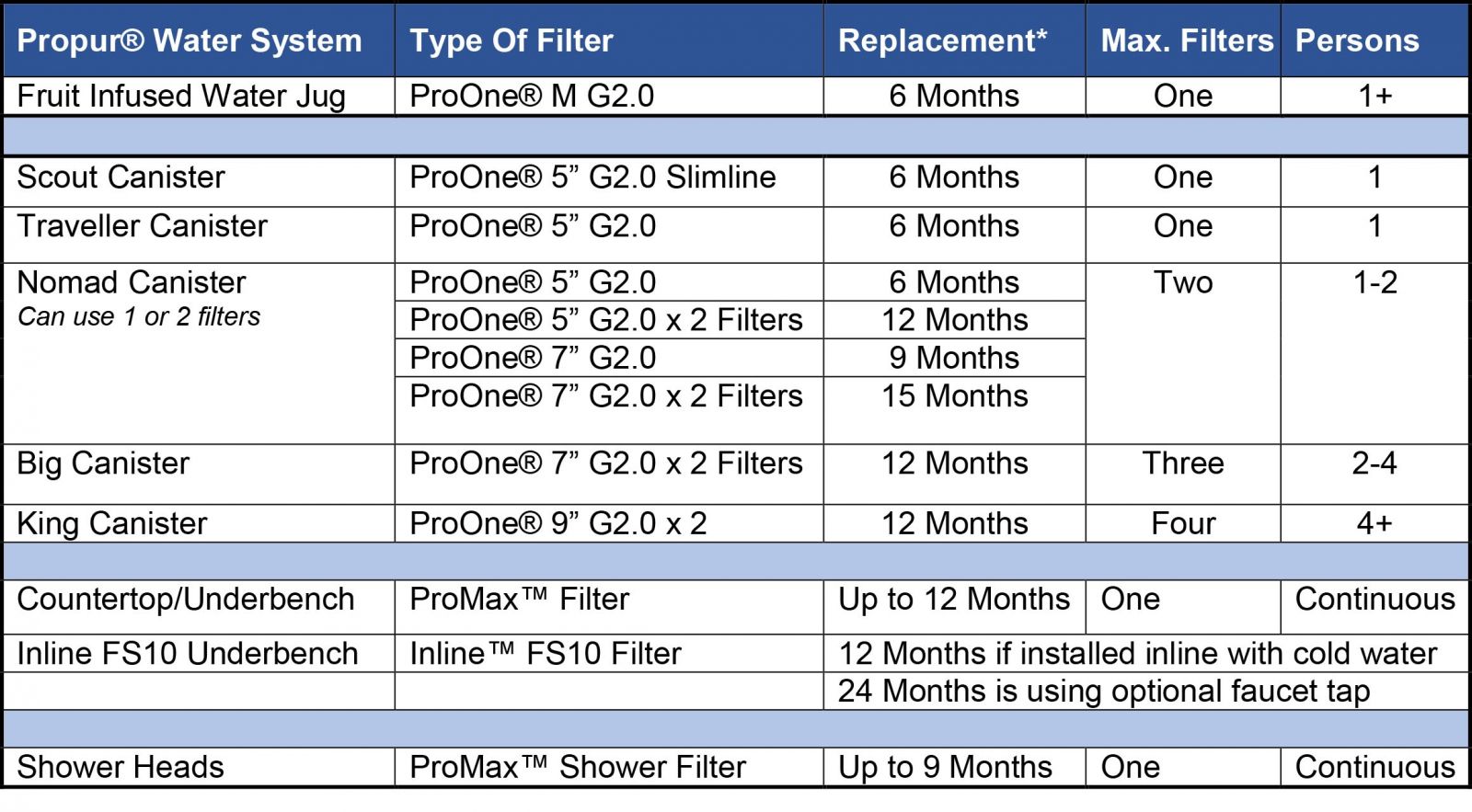 ---
The ProOne® G2.0 filter by Propur™ is ideal for use with most water sources including lakes, rivers, streams, ponds, rain and tap water. The new ProOne® G2.0 "ALL-IN-ONE" CONTAMINANTS & FLUORIDE GRAVITY WATER FILTER combines silver infused white ceramic with new ProSorb™ granular activated carbon based media. In addition to primary contaminants, only the ProOne® G2.0 filter element helps reduce or remove heavy metals, fluoride, pesticides, herbicides, chloramines, bacteria, pharmaceuticals and more. The ProOne® G2.0 filter is easy to install, use and clean - no priming required and no additional add-on filters necessary to remove fluoride. The ProOne® G2.0 "ALL-IN-ONE" CONTAMINANTS & FLUORIDE GRAVITY WATER FILTER has been tested to meet NSF/ANSI standards 42 & 53 and NSF Protocol P231.
The ProOne® G2.0 filter has been tested in accordance with NSF 42 and 53 standards, and the only "ALL-IN-ONE" CONTAMINANTS & FLUORIDE GRAVITY WATER FILTER that qualifies as a microbiological water purifier by NSF protocol P231.
Test results from an independent water testing lab certified by the state of New Jersey Department of Environmental Protection show the ProOne® G2.0 filter removes and/or reduces contaminants including heavy metals, VOC's, monochloramines, pesticides, herbicides, pharmaceutical drugs, fluoride, bacteria, viruses, Giardia and more without any add-on filters.
Now here's why the ProOne® G2.0 is technically advanced over other gravity filters
You don't need to prime the ProOne® G2.0 filter - It doesn't make sense – if you're trying to filter out contaminants in your water, why use contaminated water to prime your filters

There's no need to buy any additional device to prime your filters

Fluoride, arsenic and other heavy metals are reduced/removed by a process called absorption using a specially formulated carbon based granular media inside the ProOne® G2.0, not alumina as used by other manufacturers in their add-on filters.

The ProOne® G2.0 is silver infused which helps prevent the growth of bacteria

Engineered to maintain its structural integrity and uses the most advanced materials to prevent any potential base separation

Sized at 2.75" diameter rather than 2" as with other brands of gravity filters for maximum performance

Leaves good minerals, including calcium, in water
The ProOne™ G2.0 ALL-IN-ONE" filter ADVANTAGE-
No need to purchase and attach add-on filters to remove fluoride, arsenic or other heavy metals

No add-on filters hang down into the water storage container that could leach into your drinking water

No add-on filters to slow down the

flow

rate

No add-on filters that require frequent replacement and expense
The ProOne ™ G2.0 filter is available in 4 sizes to fit all Propur™ systems and most other brands of gravity systems. Choose the most advanced gravity water filter – choose the ProOne® G2.0 by Propur
™.
When choosing a replacement filter for another brand please go with length.
The ProOne® 9" G2.0 is designed to work with most other brands of gravity fed water filtration units such as Berkey that use a standard 2" by 9" filter element. Now you can upgrade your filters to Propur™ without needing to purchase a completely new unit.
Is your drinking water Propurified?
ProMax™
The new ProMax high efficiency, encapsulated, multi-stage water filter technology from Propur is designed to be used with the Countertop and Underbench Systems.
Each stage is comprised of a unique proprietary formula of infused microstructure filtration media designed to target a specific group of contaminants. Contains no resins or beads. Engineered for unsurpassed performance and maximum contaminant reduction.
Independent lab reports show the ProMax

TM

reduces/removes a broad range of 200 + contaminants including VOC's, lead, fluoride, heavy metals, pesticides, SVC's, disinfectants, inorganic non-metallics, herbicides, pharmaceuticals, PFOA, PFOS and micro-organisms. Helps improve taste and
odour
. Tested to NSF-42 and 53 standards. See ProMax

TM

Lab Reports for details. Unlike carbon block and ceramic composite filters, ProMax

TM

filters do not require cleaning to help maintain flow rate and contaminant reduction.
ProMax

TM

filter technology is available on select
Propur
TM

products including Propur
TM

Shower Filter, Countertop and In-line for the refrigerator.
Click Here for ProMax™ Lab Report
(PP-POG-Filters)
| | |
| --- | --- |
| SKU | PP-POG-Filters |
| Brand | ProOne |
---
You May Also Like
---
Others Also Bought
---
More From This Category